Getting Started
There are lots of ways to take part in Now and Beyond on Inside Out Day. This section guides you through booking online sessions with local mental health experts. For any questions or comments, please feel free to get in touch here.
Our sessions are run by mental health and wellbeing experts from all over the UK. They have volunteered their time on Festival Day to host virtual sessions for your school. The demand for this part of the festival is immense so we ask that you start conservatively to ensure there are enough sessions for every school to access at least one. The sessions are booked in 1 hour slots so, assuming that you will most likely need the session to be between 20-40 minutes in length, you could ask the host if they would be happy to run two sessions within that hour so as to maximise the number of children who can benefit.
Step 1: Confirm Your Account
By now you should have received an email confirming your account creation (check your junk folder if you haven't as it may have ended up there). This means that we are ready for you to complete your profile and begin browsing and booking sessions.
Follow the link to set your password and then log in.
Step 2: Edit Your Profile
Your name will appear on the top right hand corner of the screen. Select 'edit profile' from the drop down list and complete the form (see photo below). Make sure you fill in each field as the system won't let you proceed without it.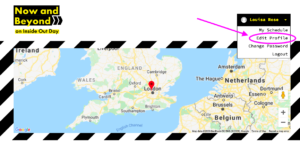 Step 3:
Browse and Book Sessions
Type the first half of your postcode in the search box and select it from the dropdown menu.
Click on any of the events that appear in the seach results. Once you have made your decision, you can book that session. Once booked, it will appear unavailable for any other school. This is your session to use how you wish. It's also the beginning of what will hopefully become a long term relationship. 
Step 4:
'E-meeting' Your Host
Once you book your session it will appear in the 'my schedule' tab in your profile. You should wait for the host to contact you at which point you discuss the following:
As the school, you should create the virtual meeting link for the designated time on the 3rd February 2021. Please do not share this link with anyone.
Discuss any additional needs you or the host may have. This could be that the school hosts the class in a larger space if your session involves movement or could be that some of your students have additional needs .
Make sure both parties are comfortable with the setup.
Step 5: Check In
Connect with the host in the week leading up to the 3rd Feburary 2021 to make sure both parties have what they need and if any changes are necessary.
Step 6: Festival Day!
Log on using the remote meeting link at the time of your session and enjoy!
A final note from us
The relationships that are established on the day are yours to nurture and build as you wish. Our hope is that these become long term relationships that continue in a face to face world post Covid_19. In the instance where your school cannot afford to finance the relationship, Beyond is launching a fund that all schools taking part in Now and Beyond on Inside Out Day can apply to. We have started crowdfunding to help us achieve this.
Thank you for taking part in Now and Beyond on Inside Out Day. You are playing a truly meaningful part in the conversation about children's mental health in the wake of the pandemic.
If you have questions at any point in your journey with us, please drop us a line at hello@nowandbeyond.org.uk. We are here to help make it as smooth as possible for you.